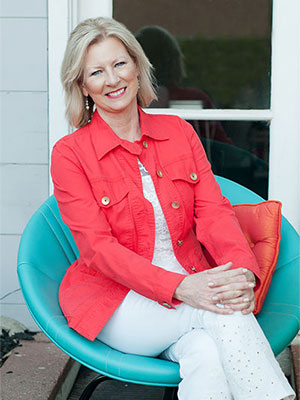 Mindy Bortness' Story
Even from a young age, Mindy Bortness had specific ideas when it came to her life goals. Seven-year-old Mindy, with a friend, envisioned this: owning a lush 500 acres of land where 500 dogs would be free to roam, play and live.
Dreams of hundreds of puppies soon gave way to bigger dreams – a move to California, working her way up the corporate ladder at several organizations and becoming a successful entrepreneur. Along the way, she discovered her love of people was just as strong as her love of furry friends.
But never mistaken Mindy's kind heart and compassion for someone who doesn't take charge. She is commands a room with her executive presence in Fortune 500 conference rooms. She has difficult conversations with CEOs about how they could be leading better. She's taken on communication and cultural challenges that intimidate many, transforming stagnant, disengaged teams into thriving, enthusiastic ones.
A series of career success and pitfalls contributed to Mindy's tough-as-nails, yet deeply caring, style.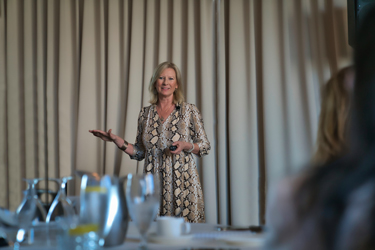 Fresh out of college and hungry for experience, Mindy began working in Downtown Chicago, taking position as a copywriter at a well-known ad agency. One month into the work, her boss was let go. Suddenly, Mindy was in charge of the copywriting department and responsible for producing ideas and work for United Airlines, Burger King, IHOP, Dunkin Donuts and more. She even was tasked with ideating for Coca-a-Cola to refute the popular-at-the-time Pepsi Challenge.
When she fulfilled her dream of moving to California, she signed on with another ad agency in San Diego.
Years later, on the day she found out the agency was closing, and that she was losing her job, her bosses arranged for her to interview at the San Diego Union-Tribune, the agency's client. Shell-shocked, Mindy took the interview but cried through the process. She landed the job.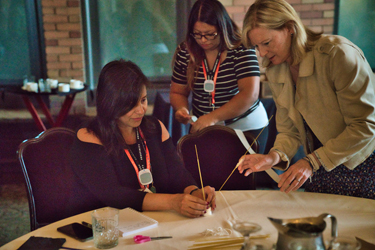 Leading a team but still young in her career, Mindy took her first DISC assessment at San Diego Union-Tribune and started to recognize aspects about herself and others that turned her into a better leader. She was a cheerleader-type of manager, but that style didn't always jive with everyone around her, she realized. Mindy began to tailor her style depending on the person she was trying to motivate.
Twelve years into her time the San Diego Union-Tribune, she was hit with two hardships: the first was management changing at the newspaper and the second was that her marriage was ending while they still had three young children raise. In that moment, Mindy made a bold decision with her career.
"I basically threw caution to the wind," Mindy explained, "I told them, 'I'm obviously attached to my team, but you should let me go.'"
They came to an agreement: Mindy would stay on for 18 months to help immerse the new leadership into the culture. When that period was through, she opened the newspaper she worked at for more than a decade to look for a new position. She landed at a surfing board online company that was expanding globally, but never forgot her love for building teams and people.
Three years later, and on her honeymoon with her new husband, Sept. 11 happened, sending her dot.com-based company into ruins. Everyone but four individuals were let go.
"You can do this," her husband told her when Mindy said she wanted to open her own business only days into their marriage.
And her husband was right. Over the past nearly 20 years, Mindy developed herself into one of the most sought after communication consultants. She's worked with Fortune 500 companies like IBM and Bank of America, using the very DISC tools that proved so enlightening for her early in her career. Companies use Mindy to help them hire with intelligence, build productive and lasting teams and overcome communication challenges.
Mindy believes hiring is an intelligence, not a routine. She and her team implement a hiring intelligence system for high growth companies. With one custom link, Communication Works profile roles and compare candidates against them so that high-growth companies can hire with greater alignment and confidence.
Certifications:
Certified Professional Behavioral Analyst
Certified Professional Motivators Analyst
Certified TriMetrixHD™ Analyst
Certified Emotional Intelligence (EQ) Specialist
Certified Professional Stages of Growth Specialist
Associations:
National Association of Women Business Owners
WBEC-West
TTI Success Insights
BBB San Diego