Assessments
Research has shown that the most effective people are those who understand themselves, both their strengths and weaknesses, so they can develop strategies to meet the demands of their environment.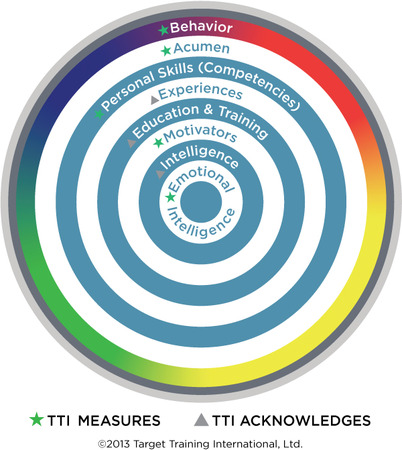 TTI Success Insights® is the world's leading provider of research-based, validated assessments, providing development and coaching tools that enable organizations to effectively meet their human resources needs. TTI's client base encompasses many Fortune 500 companies. Their parent company, Target Training International, Ltd. has patented the process for sending, receiving and scoring assessments and generating reports.
TTI's tools are at work in more than 90 countries and in 40 languages. TTI is also a leader in cutting edge research on human behavior and the characteristics of superior performers in specific jobs. TTI develops thought leadership in the realms of entrepreneurism, education and human interaction.
TTI Success Insights® believes there are five dimensions of a superior performer that can be measured by our research-based assessments: